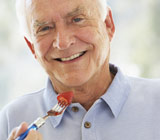 While genetics certainly plays a role in a person's susceptibility to various forms of cancer (including oral cancer), there are lifestyle factors that also play a role.
In the case of developing oral cancer, there are a number of prominent lifestyle changes you can make to help reduce your risk: protect yourself from too much sun exposure; avoid the use of any type of tobacco (smoke and smokeless); limit your intake of alcoholic beverages to a moderate level; abstain from risky sexual behavior; and eat a diet rich in fresh fruit and vegetables, as well as other whole foods.
That last lifestyle change not only reduces your level of negative exposure from the environment, it may also provide a positive effect as well. For example, normal cellular function produces unstable molecules known as "free radicals" that can damage the DNA structure within the cell; this could be a precursor to the development of cancer. There are natural substances, however, that can help protect cells against the damage caused by free radicals. These are known as "antioxidants" and they are abundant in many plant-based foods. You, of course, may know them by other names: vitamins, carotenoids (found in red and orange fruits and vegetables) or fiber, to name a few.
A well-balanced diet can provide these and other kinds of cancer-fighting nutrients. And, it's important that you eat the source of these nutrients — fresh plant-based foods. Studies have shown that dietary supplements can't match the effectiveness of actually eating fruit and vegetables.
Besides lowering your cancer risk, a plant-based, whole food diet will also result in better oral health. Diets heavy in processed foods with high amounts of sugar or other bacteria-friendly substances inhibit good oral health.
If you would like more information on the role of diet in reducing your risk to cancer, please contact us or schedule an appointment for a consultation. You can also learn more about this topic by reading the Dear Doctor magazine article "Diet and Prevention of Oral Cancer."