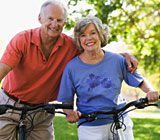 Given the fact that baby-boomers are now reaching the age of retirement, understanding senior healthcare is becoming a top priority to many people. Discover your level of expertise in the area of oral health by taking the following true/false test.
True or False Self Assessment
All people eventually lose their teeth as they age.
Yellow teeth are a sign of gum disease.
If you have dentures, you no longer need regular dental check-ups.
Periodontal (gum) disease is a big problem that affects 3 out of 4 adults.
Electric toothbrushes can be a great option for seniors with arthritis or other debilitating conditions.
Answers
False: Your teeth are meant to last your lifetime.
False: Yellow teeth typically denote stained teeth from diet, medication, smoking, or growing older. And while they may not appear attractive, older, yellow teeth can in fact be healthy and free of gum disease. However, if your yellow teeth bother you, ask us if teeth whitening could be right for freshening up your smile while making you appear younger.
False: For those individuals who wear complete upper and lower dentures, you will always need routine dental exams, typically once a year so that you can be screened for cancer, as well as other oral conditions (i.e. candadiasis), to ensure the you obtain and maintain optimal oral health.
True: 75% of all adults over the age of 35 will experience some form of periodontal disease, a condition in which the gums become inflamed and infected. If left untreated, gum disease causes the bone that supports the teeth to deteriorate until the teeth are loosened and/or eventually lost (either they fall out on their own or must be removed). On a positive note, you can prevent gum disease by having good oral hygiene that includes flossing daily and brushing at least twice a day with a proper technique and fluoride toothpaste.
True: Under normal conditions, what matters most is not so much the type of toothbrush used (manual, electric or battery powered toothbrush), but rather how you use it. However, if you are unable to use a manual toothbrush effectively for proper brushing, then a power toothbrush may be able to facilitate proper cleaning more easily.
Want To Learn More?
If you feel you missed too many of the above questions, read the Dear Doctor article, "Oral Hygiene Behavior." Or, contact us today to discuss your questions or to schedule a consultation.