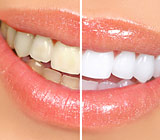 What causes stains on teeth?
Staining can occur on the outside surfaces of teeth and is caused by foods such as red wine, coffee, and tea, as well as by tobacco use. They can also be developmental, affecting the structure of the teeth due to excessive fluoride levels or from tetracycline antibiotics given during childhood to name a few. Changes in a tooth's enamel or dentin during tooth formation, or as teeth age, can also cause discoloration.
What is going on inside a tooth's structure that makes it look stained?
Most of a tooth's covering (95 percent) is composed of highly mineralized enamel. The crystals of enamel are contained in a framework, or matrix, of organic matter. Dentists believe that various organic compounds that get into this matrix can cause staining.
How do whiteners work?
Tooth whiteners or bleaches expose the teeth to a peroxide compound. This creates reactive oxygen that breaks down highly colored organic compounds within the tooth's sub-surface matrix, making the tooth look whiter, but without changing its internal structure.
What professional in-office whitening techniques are available?
During treatment, a high concentration of peroxide solution in the form of a gel is applied directly on the teeth, often with activation by a heat or light source. These systems use custom tailored trays fitted to an individual's mouth. Silicone barriers or protective gels are used to keep the peroxide gel away from the gums or sensitive membranes in the mouth.
How are professional home whiteners different?
Home whiteners involve a less concentrated solution of peroxide in a gel form. It is delivered to the tooth surface by a bleaching tray that is custom-made in your dentist's office. Over-the-counter whiteners such as whitening strips or paint-on formulas can also be used, but they take longer and they're not as effective — the more diluted solutions are used for safety.
Can toothpastes really whiten teeth?
Mild abrasives in toothpastes clean surface stains but cannot change the underlying tooth color or remove significant staining.
How long do the results last?
Usually, the results last from six months to two years, but effects will diminish over time. You can make them last longer by avoiding the foods and habits that cause staining.
Are teeth whiteners safe to use?
Teeth whitening products are safe if used according to our recommendations or the product manufacturer's directions. Peroxide products may be toxic if used in excess of recommended intervals and amounts.
Read more about teeth whitening in the article "Teeth Whitening, Brighter, Lighter, Whiter..." Contact us today to schedule an appointment or to discuss whether tooth whitening is right for you.