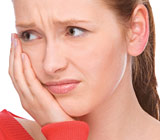 It can start with a simple twinge or be as severe as excruciating pain. From time to time, we have patients asking questions about tooth sensitivity — what causes it? What can be done about it? For these reasons, we have put together the following list of frequently asked questions (FAQs) so that you can develop a healthy understanding about this painful and often avoidable condition.
What is tooth sensitivity?
The first layer of protection of the teeth is enamel. Enamel is a dense crystalline structure, the hardest substance produced by animals. It is an inert substance that has no nerve supply and thus it protects the teeth from temperature and pressure changes. When it is compromised, worn thin, or exposed due to gum recession, it leaves the dentin exposed and vulnerable. Unlike enamel, dentin is living and has delicate nerve fibers within it.
What triggers tooth sensitivity?
Once dentin is exposed, it can become sensitive. It typically occurs when the dentin comes in contact with heat, cold, or the "double whammy" combination of both cold and sweets. Even the bristles of a soft toothbrush can irritate exposed dentin causing sensitivity and pain.
What can be done to minimize tooth sensitivity?
One of the simplest ways to minimize or prevent sensitivity is by teaching proper brushing techniques so that teeth are cleaned without causing either sensitivity or damage. Brushing too hard is a frequent culprit. Being overzealous can literally cause gum recession, leave dentin, and wear it away leaving it grooved. Another step to minimize sensitivity is to use a toothpaste containing fluoride. Fluoride increases the strength of tooth surfaces and thus makes teeth more resistant to attack by acids and sweets. If severe, we may need to apply a barrier to cover the sensitive areas. These barriers may range from concentrated fluoride varnishes to replacing lost tooth structure with filling materials.
Want to learn more?
To learn more about this topic, read the article "Sensitive Teeth." Or if you are suffering from this condition, please contact our office to schedule an appointment. During your appointment, we will conduct a thorough examination to ascertain what is causing your sensitivity as well as what we can do to treat and/or prevent future issues.