Posts for tag: invisalign
By Dr Henry Lee
June 02, 2014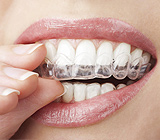 It used to be that the only option for straightening a teenager's teeth involved lots of shiny hardware. Besides the esthetic downside, traditional orthodontic devices (braces) can interfere with the enjoyment of certain favorite foods, irritate the inside of the mouth, trap food particles (potentially another esthetic embarrassment and sustenance for cavity-causing bacteria), and complicate dental hygiene routines.
These aren't causes for concern with clear orthodontic aligners, however, which consist of a series of transparent plastic, removable trays that fit over the teeth and gradually move them into better positioning. About every two weeks, the teen proceeds to the next aligner in the progression (or set of aligners if treatment involves both the upper and lower teeth) until the improved alignment goal is reached. The trays are meant to be worn 22 hours a day, but they can be removed for eating, brushing and flossing, and, on a limited basis, special occasions.
Thanks to relatively recent developments in the design of clear aligner systems, teens who previously were not considered good candidates for this modality may now have this option available to them. This includes:
Teens whose second molars (the last to come in except for wisdom teeth) haven't fully emerged. Aligners now come with "eruption tabs" that serve as place-holders for teeth that are still growing into position.
Teens with severely rotated teeth requiring complicated movement. Tooth-colored attachments called "buttons" can be temporarily bonded onto teeth to provide additional leverage, and elastics (rubber bands) can also be used to promote movement.
Compliance is always a concern with any orthodontic treatment — whether it be gum chewing with traditional braces or wearing clear aligners for the requisite period of time each day. Aligners now come with built-in colored "compliance indicators" that fade with use over time. This makes it possible for orthodontists, dentists, parents and teens alike to monitor both compliance and treatment progress.
If you would like more information about clear orthodontic aligners please contact us or schedule an appointment for a consultation. You can also learn more about this topic by reading the Dear Doctor magazine article "Clear Aligners for Teens."
By Dr Henry Lee
June 26, 2013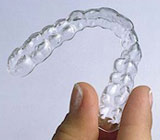 Years ago, if you hadn't received braces by the time you finished high school odds are you would never pursue orthodontic treatment. Most adults wouldn't have even dreamed of wearing braces! Thankfully, today, clear aligners have quickly become a popular alternative for adults who have mild to moderate crowding or spacing of teeth.
Unlike traditional orthodontic "braces" in which small (metal) brackets are attached to the teeth, clear aligners use a sequence of individual, clear, removable "trays" to straighten teeth. These trays completely cover each tooth and gradually move the teeth into new improved positions. Clear aligners can be used to realign mildly crowded or tipped teeth, to close small spaces between teeth and even treat elongated teeth.
Your clear aligners will be computer-generated based on current dental records. If you would like to find out if you are a candidate for orthodontic treatment using clear aligners, we will need a full set of records to properly assess your case starting with a thorough examination, taking radiographs (x-rays) of your teeth, jaws and skull, as well as photos and impressions of your teeth that can be used to create models. If you have a good bite, which means that your back teeth fit together properly, clear aligners should be a viable treatment option for you. However, if your upper and lower jaws don't align properly, resulting in a severe overbite or underbite, you will more likely need traditional orthodontic braces to straighten your teeth and improve your bite.
Each patient presents unique dental challenges. Cases vary, but you can expect to have to wear the aligners all day except when eating, for an average of anywhere from six months to two years. But don't worry about what others might think — clear aligners are barely noticeable at all.
If you are ready to improve your smile with this state-of-the-art orthodontic treatment, call our office today. To read more about clear orthodontic aligners, and to view photos that compare traditional orthodontics to clear alternatives, please read the article "Clear Orthodontic Aligners: An Alternative For Adult Orthodontics" in Dear Doctor magazine.