Posts for tag: wedding day smile
By Dr Henry Lee
April 24, 2021
Each of life's moments are precious—but some are more precious than others. For one like your wedding day, you want to look your very best.
Be sure your teeth and gums are also ready for that once in a lifetime moment. Here are a few cosmetic enhancements that can transform your smile appearance.
Dental cleanings. Having your teeth cleaned professionally not only boosts your dental health, but it can also enhance your smile's brightness. A dental cleaning removes plaque and tartar that can yellow and dull teeth. With plaque out of the way, your teeth's natural translucence can shine through.
Teeth whitening. For an even brighter smile, consider teeth whitening. We apply a bleaching solution that temporarily whitens your teeth. With a little care on your part and occasional touchups, your brighter smile could last well beyond your wedding day.
Tooth repair. A chipped or cracked tooth can ruin an otherwise perfect smile. We can often repair mild flaws by bonding tooth-colored composite resins to the defective area, usually in one visit. Porcelain veneers or crowns can mask more moderate imperfections, but they must be undertaken well in advance of your big day.
Teeth replacements. We can restore those missing teeth ruining your smile with dental implants. An implant replaces the tooth root as well as the crown to create a stable and durable hold that can last for years. But similar to porcelain restorations, an implant restoration could take months—so plan ahead.
Orthodontics. Correcting a bite problem through orthodontics can have a huge impact on your smile. Straightening teeth isn't just for teenagers—you can undergo treatment at any age. And if you opt for clear aligners, no one but you and your orthodontist need know you're wearing them.
Cosmetic gum surgery. Even if your teeth look perfect, too much of your gums showing could detract from your smile. If your "gummy smile" is caused by excess gum tissue, there are a number of plastic surgical techniques that can restructure the gums so that they appear in right proportion with the teeth.
If you want a more attractive smile on your wedding day, see us as soon as possible for a full evaluation and assessment of your needs. Depending on what you need, we have the means to make your smile live up to that moment of moments.
If you would like more information on smile enhancements, please contact us or schedule an appointment for a consultation. You can also learn more about this topic by reading the Dear Doctor magazine article "Planning Your Wedding Day Smile."
By Dr Henry Lee
April 06, 2015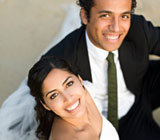 You're planning for one of the most important days in your life — your wedding — and you want everything to be perfect. You've chosen the outfits, the setting, the flowers... but there's one more thing to think about. Is your smile just as bright as your hopes for the future? Do you wish you could improve its appearance in time for the big date?
Here's good news: You can! Depending on how much advance notice you have — and what level of enhancement you need — your wedding day smile makeover can range from a thorough dental cleaning to a full-scale orthodontic treatment program. Let's look at a few options that can help you look and feel your best on this very special day.
Getting your teeth thoroughly, professionally cleaned can help remove some surface stains and tartar in just one appointment! Depending on the level of discoloration, and how long it's been since your last cleaning, more than one session may be needed. You have this basic and effective treatment done every three to six months anyway — right? So, be sure and schedule one before your wedding!
Sometimes your smile needs more than just routine maintenance. If that's the case, there are many other options to help it look its best. Tooth whitening is a safe, effective and economical way to lighten teeth by several shades. In-office treatments are quicker and more predictable, but dentist-supervised at-home bleaching kits are also an option if you have more time.
Porcelain veneers offer a more striking and more permanent solution for discolored teeth. To get the optimum "wow" effect from this treatment, figure from two to four office visits, and a total treatment time of at least three months.
Cosmetic bonding is a great way to hide those little chips in the front teeth, or discolored old fillings in back. Using the newest high-tech materials and a dose of old-fashioned artistry, we can restore the shiny, translucent look of your natural teeth — only with fewer imperfections. After a thorough evaluation, cosmetic bonding can often be performed as a one-visit procedure.
If your smile needs even more help, don't despair — there are still plenty of ways to improve it.
Teeth that are damaged or missing can be restored by crowns or bridgework. When the roots are intact, a crown replaces the visible part of the tooth above the gum line. If the tooth is missing, a bridge is used to secure a false tooth to two abutments on either side. Properly done, these restorations may last a decade or more, and generally require two or more visits.
Dental implants are a great way to restore missing teeth. They offer a permanent, natural-looking tooth replacement with numerous advantages over other restorative treatments. Achieving these results requires careful planning and takes a bit more time. If you need tooth restoration, be sure to ask us whether dental implants might be right for you.
If you would like more information about a wedding-day smile makeover, don't hesitate to contact us or schedule an appointment to discuss your treatment options. You can learn more in the Dear Doctor magazine article "Wedding Day Smiles."
By Dr Henry Lee
July 08, 2013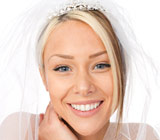 Some people are planners, and others just go with the flow. Some spend all winter in the gym, and others try and lose ten pounds right before beach season. Some have every detail of their wedding day planned out months in advance, and others... don't.
No matter which kind of person you are, you'll want to look your best for your wedding day. And that includes sporting a bright, healthy-looking smile. Depending how much time you have beforehand, there's a range of dental treatments that can help you look and feel great — not just that day, but every day. Here's a rundown of what you can do in the time remaining before your big day.
Time Left: Up to two years. If you've planned this far in advance, congratulations! You probably have time for almost any needed dental treatment — including orthodontics, which can straighten misaligned teeth and correct a bad bite. But even if you don't have quite so much time, don't despair: Clear aligners and tooth-colored or tongue-side braces, if recommended, can make orthodontic appliances nearly invisible.
Time Left: Six months to one year. Many dental treatments, like periodontal plastic surgery or tooth implants, can achieve remarkable results in this time. Periodontal surgery can give you a less "gummy" smile and greatly improve the aesthetics of your teeth. Tooth implants are modern dentistry's best option for replacing missing teeth. Natural-looking implants have a success rate of 95%, and can last a lifetime.
Time left: Three or four months. There's plenty you can do! If the roots are intact, a crown can be placed on a damaged tooth to restore its appearance and function. Or, missing teeth can be replaced via bridgework, which supports a false tooth from abutments on either side. Stained or discolored teeth can also be dramatically lightened with veneers, where a porcelain shell replaces the tooth's outermost layer of enamel. Tooth implants are still a possibility, under the right circumstances. We can evaluate your individual situation and come up with the best option to replace missing teeth.
Time left: Six weeks or so. You still have time for some basic, yet effective, treatments. Small chips or discolored fillings can be restored with tooth-colored materials that securely bond to the teeth themselves. You can also brighten your teeth by several shades using the techniques of bleaching. In-office whitening treatments are the fastest, but take-home kits, used under our supervision, offer similar results in a longer time.
Have even less time? At the very least, come in for a thorough cleaning right before the date! This will help remove many surface stains and freshen up your smile. Be sure to call in advance so that you're able to get an appointment. Then, smile for the camera!
If you would like more information about a wedding-day smile makeover, please contact us or schedule an appointment to discuss your treatment options. You can learn more in the Dear Doctor magazine article "Wedding Day Smiles."